German experts visited in Mongolia
Prof. Dr. Walter Popp, HyKoMed, Dortmund Peter Renzel, Vice mayor, Essen City Nouzha Maazouz, University Clinics Essen Dr. Jan Kehrmann, Institute of Medical Microbiology, University Clinics Essen Detlef Schliffke, President of German Association for Patient Cares Michael Rossburg, MVZ Dr. Eberhard, Dortmund Hospitals visited to Ulaanbaatar, 20 June – 1 July.
German delegations visited a family doctor in Khan-Uul ger district, Emergency service 103, Second central hospital, NCCD, General hospital for State Special Servants and Department of Scientific Analysis in National Institute of Forensic Science.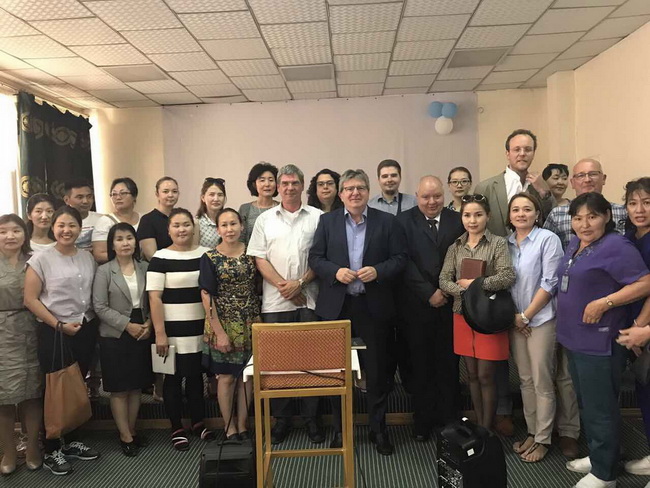 One day German- Mongolian symposium on 'Hospital hygiene, infection prevention and control' were held at Second central hospital with over 100 participants.
Please find the following presentations which were presented at the symposium.
Dr.Uyanga "MeshH project at Second central hospital"
Prof. Dr.W.Popp "How to detect and count nosocomial infections"
Dr. M. Rossbug "MDR diagnostic and prevention"
Dr. J. Kehrmann "TB diagnosis and care of patients"
Prof. Dr. Amarsaikhan "Dental clinics inspection, protection and control"
Prof. Dr. Khentii "UB Dental clinics IPC"
Mr.P.Renzel "Refugees in Germany – Health care challenges"
Prof. Dr. Erdenebayar "Trends in the prevalence of transfusion transmitted infections among blood donors"
Mr. D. Schliffke "Umgang mit Patientenbeschwerden in Deutschland "
Moreover, Nouzha Maazouz made a practical training on flexible endoscopy reprocessing at Second central hospital with around 80 participants. Participants were introduced through the video presentation on how to reprocessing endoscopy in Essen university clinic, Germany.
Please find more information the following link how to reprocess endoscopy in Essen university clinic, Germany: https://www.youtube.com/watch?v=k5E0Jh9cmkg
There were several meetings with officials including Dr. Raushan, ADB, Sh. Ankhmaa, Deputy Mayor Ulaanbaatar city and Dr.Bayar, City Health Department.
If you want to get more information about trip, please find trip report here: Trip report of June 2017